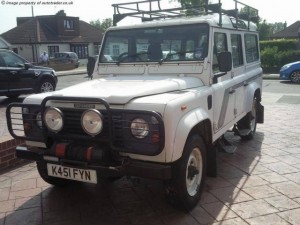 Having a bit of a think about the Land Rover and totting-up all the jobs that need doing…
Remove and spray the light surrounds and radiator grille
Change the filters and oil
Remove the rusted screws holding the top of the offside underwing pod
Replace the bottom strut on all four doors
Find out why left-turn indicators go double-speed
Sort the creak in the steering when dry steering left
Fit a panel to the inside rear door
fix the heater fan control
tighten the throttle cable
various bits of body rust
change the rubber seal on drivers-site windscreen attachment
Remove, weld and respray bull bars
Remove, strip and repaint ladder
Replace battery with potentially two in parallel or split-charge
Win-top chequer plate
Weld hole in rear cross-member
Sound-proofing
Left rear door lock a bit stiff
Tidy rust on rear loading
Decide if happy with gear box being a but vague and the occasional grind changing down to second
Decide if replacing rubber door seals
Find some way to fix all the loose tools etc. floating around in the boot to something solid
Fit a new radio with CD player
Decide best way to fix pirate flag pole
Steering guards and diff-guards for potential green-laning etc.
Everything else can wait…..