If you own a Land Rover Defender and on occasion wade through water, you should understand where your wading plugs are.
Wading plugs prevent water getting into bits of your engine that don't like getting wet. They are not as critical as water getting into your air intake, but if you get the chance before you go knees deep in the wet stuff, plug those holes!
If you don't have any, buy a pair. If yours are permanently installed, you should consider removing them to prevent oil fouling your timing belt. But that is to be honest, a matter of opinion vs. the maintenance guides. For example: http://forums.lr4x4.com/index.php?showtopic=9219
Fitting Wading Plugs
Slide in behind your front wheel and you can plug the timing belt case as shown here. (Yes, I do use yellow plugs to make it easier to find them afterwards.)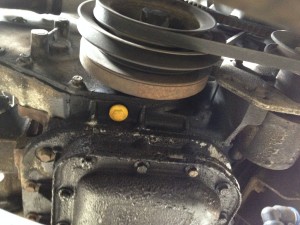 I have marked the next one in red, purely to make it easier in any comments or feedback. This one is just behind the sump and into the bottom of the flywheel housing and prevents water getting onto your clutch plate. Not every engine has one here. If you do though, plug this one too.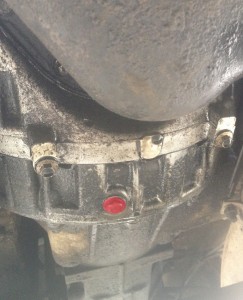 This guide is based on a 1993 Defender 110 with a 200tdi engine and LT77s gearbox. Yours may differ if it is more modern than mine, but this still covers an awful lot of vehicles and hopefully will be useful to somebody