Contrary to what Sky will tell you about how to setup a router to use their service, it won't work. At least not as they explain it.
To read it for yourself, look here: http://helpforum.sky.com/t5/tkb/articleprintpage/tkb-id/sky_broadband_setupcablingconnectionwifi@tkb/article-id/14
or here:
http://service.o2.co.uk/IQ/SRVS/CGI-BIN/WEBCGI.EXE?New,Kb=Companion,question=ref(User):str(Broadband),T=Broadband_Case,CASE=24812
I tried a few different ways but in the end, these worked for me:
Encapsulation:  RFC1483 Bridged  (Your router may call this: IPoE)
Multiplexing:  VC
Autodetect: Disable
VPI: 0
VCI: 102
Don't auto-detect your IP address. Instead enter the static IP they gave you as a /24 with the first IP in the block as the gateway.
DNS: 87.194.225.154
DNS: 87.194.225.155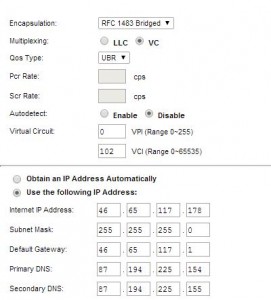 If it is all working, you should see it on your status page. I could pretty much get the DSL line to come up on most settings but getting it to log a gateway was an impossible task. All good now though: